A few years ago the city of Cincinnati built a stadium for what at the time was one of the worst teams in professional football. This is probably what they needed to turn the franchise around. Playing in a beautiful stadium must have been the magic since the Bengals are typically a very competitive team now and often discussed as a playoff contender.
The stadium is one of the nicest football venues that you will find. It holds over 65,000 screaming fans, it has fantastic scoreboards that show live video, and has plenty of restrooms. It is the only football stadium to make the "Americans' Favorite Buildings" coming in at 101. Only 10 sporting structures made that list.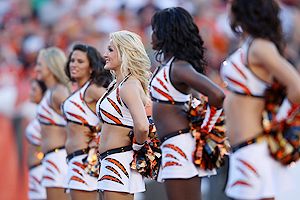 The nickname for the facility is "The Jungle" so named for the Guns N Roses song "Welcome to the Jungle". The nickname carried over from the old stadium and is sometimes credited to the quarterback Boomer Esiason.
Overall the viewing experience of a Cincinnati Bengals game at Paul Brown Stadium is excellent. If you are a football fan and have an opportunity to be in Cincinnati on a football Sunday, you will enjoy your experience.
Since many of those 65,000 seats are sold though, you may need to buy your tickets from a service or a scalper on the street (legal if not on the grounds of the stadium).
Technorati Tags: cincinnati+bengals,football,stadiums
Tags:
cincinnati+bengals
,
Football
,
sports
,
stadiums